A while ago, I went on a trip that covered the majority of the Tohoku region (map below) via the shinkansen bullet train with a friend. The prefectures we managed to visit are:
Aomori (Aomori City)
Akita (Akita City, Semboku City)
Iwate* (Morioka City)
Miyagi (Sendai City)
Fukushima (Aizuwakamatsu City)
Yamagata (Yamagata City)
* Stopped by only for a quick grab of Frappucino (see below).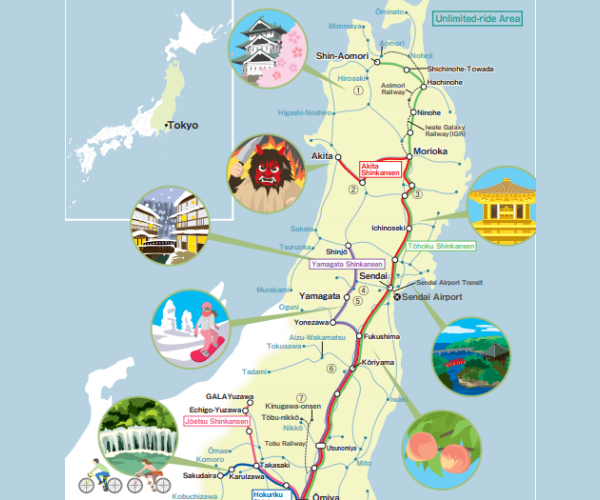 To accomplish this, I took advantage of the JR EAST PASS (Tohoku area), made available for foreign tourists and residents of Japan by purchasing it at JPY 20,000 (MYR 768.57/USD 181.57, rate as of July 28, 2021). With this pass, one can travel unlimited on the JR trains and shinkansen bullet trains for 5 consecutive days in the area above, which is a huge deal, since it is not cheap to travel on the shinkansen bullet trains.
My friend is a huge fan of the currently ongoing "47 Jimoto Frappucino" (47 Local Frappucino) campaign by Starbucks Japan, so we conquered the local Starbucks in the Tohoku region to taste their local regional frappucinos. We drank at least 6 cups of frappucinos over the span of three days in the Tohoku region.
Aomori, the second spot countrywide for its frappucino offerings.
Apple Strawberry Frappucino Blended Cream.
Being on a short trip marathoning across the six prefectures, we spent about a day per prefecture. Visits to most of the prefectures above are a first for us, so we went to various iconic spots and castles, such as Aomori Prefecture's iconic Hirosaki Castle, which is another more than half an hour of train away from Shin-Aomori station (train station that the shinkansen bullet train stops at).
Aomori Prefecture
Since we were nearby the castle, we wandered around the area, exploring places like Fujita Memorial Garden (owned in the past by a person named Fujita), which had a landscape that reminded me of Kyoto's Ginkaku-ji Temple. The lushing green that painted the site and the hot weather painfully reminded us that we were in mid-summer, and expected less of seeing magnificient sights that can be seen in spring and winter.
Akita Prefecture
On the way to Akita prefecture, we stopped by Tazawako station to visit Lake Tazawa, the deepest lake in Japan. Nearby the lake lied a statue of the legendary princess Tatsuko, who had turned into a dragon to pursue her desire for eternal beauty.
The lake's sapphire-blue colored water left a deep impression in me as I stared at the lake's view and water for quite some time.
Apart from visiting castles and lakes, we also tried the local dishes, like Akita's prefecture kiritanpo nabe (chicken hotpot with pounded rice) and hinai jidori oyako-don (Hinai Jidori chicken and eggs over rice).
While searching for information about the kirintanpo nabe, I stumbled upon a video about how to make one. Ought to be fun to try it out someday!
It was fun to visit in the summer, albeit under the hot sun, to view various spots and taste foods and cooling beverages along the way, but I'd imagine it'd be equally interesting as well to visit them at another season. Speaking of views in another season, I captured a picture while we were on our way to Yamagata City when we stopped by at Risshakuji Temple nearby Yamadera station.